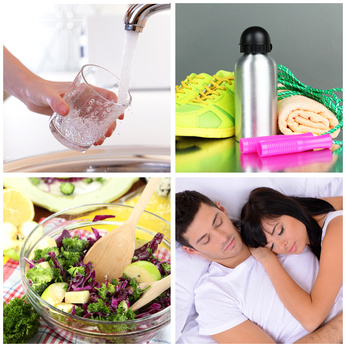 When suffering from depression and anxiety, many people describe serious and significant physical complaints in addition to emotional symptoms. It is important to keep in mind that our bodies and our brains are connected so that when we work to improve your emotional health, it makes sense to take a look at your physical health and address those symptoms as well.
As a psychologist, I often hear my clients explain that they have difficulties with various aches and pains, such as headaches or stomach aches. It is also not usual for people to experience difficulty falling asleep, staying asleep, and waking up extra early. My clients also describe symptoms that include either increased appetite, loss of appetite and random weight changes. It would be strange not to address these physical issues in providing comprehensive treatment.
When we look for triggers as a way to gain greater insight into uncomfortable emotions, it can be hard to tell if the mood symptoms are causing the physical problems or if it is the other way around.
Either way, addressing physical symptoms can help improve mood problems as well as energy levels, concentration, and attention further demonstrating the importance of caring for the whole person.
The three main categories that are probably a good idea for most of us to work on in improving our physical and emotional health are sleep, food, and exercise.
It is a good idea to follow some basic guidelines for what doctors call "sleep hygiene" as well as good nutrition and exercise.
I will review some of these basic recommendations. Keep in mind that while these may not "cure" emotional difficulties, they sure can help support your combined physical and emotional well being.
Sleep Hygiene Recommendations Include:
Use your bed for sleep and sex, only and nothing else.
Stop the use of electronics to 1-2 hours before bedtime.
Have regular sleep and wakes times (within an hour or so).
Don't drink excessive caffeine or alcohol.
Turn the lights off (no bright nightlights).
Don't fall asleep to music or television.
Have a comfortable unwinding bedtime routine.
Make sure your bedtime clothes are comfortable and your bed and room temperature are also comfortable.
Clean Eating Nutrition Guidelines Include:
Don't eat or drink foods high in sugar.
Make healthy choices by asking yourself "What is the nutritional value in this?"
Don't eat processed foods.
Eat 5-6 times a day, ideally every 2-3 hours.
Eat sources of lean animal and plant protein, whole grains, healthy fat, fruit, and vegetables.
Start to get your veggies in early in the day.
Don't eat junk food.
Save cake and alcohol for special occasions.
Drink a lot of water.
Healthy Exercise Guidelines Include: 
Set a goal to exercise 6 days a week for 30 minutes a day.
Schedule time to exercise.
Get a workout buddy.
Hold yourself accountable.
Make friends with those who exercise and support a healthy lifestyle.
Vary your exercise. Don't do the same thing over and over.
Do a combination of cardio, low impact, weights, pilates, yoga, dance, and most importantly whatever sport you think is fun.
Reward yourself with comfortable and appropriate workout gear so you are safe and lastly, don't undo all your hard work in the kitchen.
If you are working to regulate your emotions, then regulating your sleep, eating, and exercise habits can help with your make your biological rhythms more stable and that will include your emotions. Think about having balance with time to yourself and time to socialize with family and friends as well as work, play, and relaxation. Being mindful of balance in all areas of your life will help support a more balanced emotional state.
If you are interested in learning more about Cognitive Behavioral Therapy for depression or anxiety for adults, teens, and children, please feel free to schedule an initial phone consultation below by clicking on "Book Online Now."