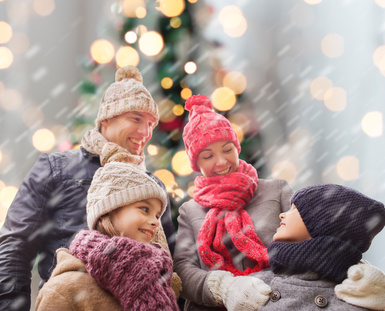 We're full swing into the holidays now and if you've been working hard all year long, you probably don't want to blow all of your gains during the month of December. Now we are talking both physical and emotional health here. Don't forget that your brain and your body are connected and what you do with one will affect the other.
Let's start with nutrition. Keeping up with good nutrition is not only good for your body, but it's good for your mood, energy levels, and attention. Tis the season for sugary goodies and they are all around from ridiculously sugar packed coffee drinks to the obvious Christmas cookies and holiday parties where the drinks are flowing. But, that doesn't mean you should overindulge. Don't think about it as a treat, because it's really not. When you crash from all that sugar you feel tired and grumpy so you're not doing yourself any favors. Sure, have a few but keep in mind the 80/20 rule and stay on track 80% of the time. Enjoy your treats 20% of the time and you won't wake up in January feeling guilty and horrified that you packed on an extra 10 pounds or more.
Healthy Boundaries. Maybe you're lucky and you have a really healthy family who respects boundaries, doesn't lay on guilt trips, and doesn't treat you like a little kid and if you do that's great! Enjoy! But, if you're like the rest of us with any varying degree of dysfunction it's a good idea to think about what you will tolerate and not tolerate and how to implement healthy boundaries for your emotional safety. If abuse is part of your family dynamics, physical safety in addition to emotional safety is key. You can choose who you spend time with over the holidays and all year round. If you are at risk for abuse, the holidays can be a particularly stressful time with alcohol often heightening the risk for abuse. Have a safety plan, safety word, and keep emergency numbers on hand. The National Domestic Violence Hotline is available: CALL 24/7/365:  1-800-799-7233.
Financial responsibility. Don't feel like you have to go overboard and get yourself into credit card debt to buy presents for friends and family over the holidays. It's not worth it and your loved ones would not want you going into financial debt. If they do need to be bought expensive gifts, you may want to re-think those relationships. Remember that if you cannot pay off your credit card each month, then you should not be buying those items. Practice financial responsibility all year long and not only during the holidays. If you are really struggling, do something creative, make a card, art, a meal, share an experience where you are truly mindful and present with your loved ones. Nothing is more valuable than the gift of your undivided (media free) attention and presence.
Coping skills. Practice what helps you reduce stress all year long.
Get enough sleep.
Don't over drink or over eat.
Exercise.
Meditate.
Do something artistic or creative.
Go see live music, the ballet, light show, whatever brings a smile to your face.
Practice gratitude.
Even in the midst of our worst times, we can always find something to be grateful for. Remember the holidays are like any other day and the time will pass. You can face your challenges, be strong and brave, and take care of yourself and love your family and friends. If you'd like to talk to a psychologist for a free 10 minute consultation click on Book Online Now and choose initial phone consultation.